---
SHEQ factors in risk assessment
Most organisations find they have more issues to manage and problems to solve than they have resources. Additionally, different people in an organisation see the world differently, and would apply more or less effort to solving a problem. It would normally be impractical and demotivating for an employee to consider every problem and assign adequate resources for remedy.
A better approach is to provide guidelines, consisting of the most important
security, safety, health, environmental and quality
concerns (SHEQ factors), so that people in the organisation can refer to the guidelines and determine an approach that is acceptable to minimise the impact of a certain problem.
The most successful approach to the provision of guidelines is to adopt a concept of Risk Management.
---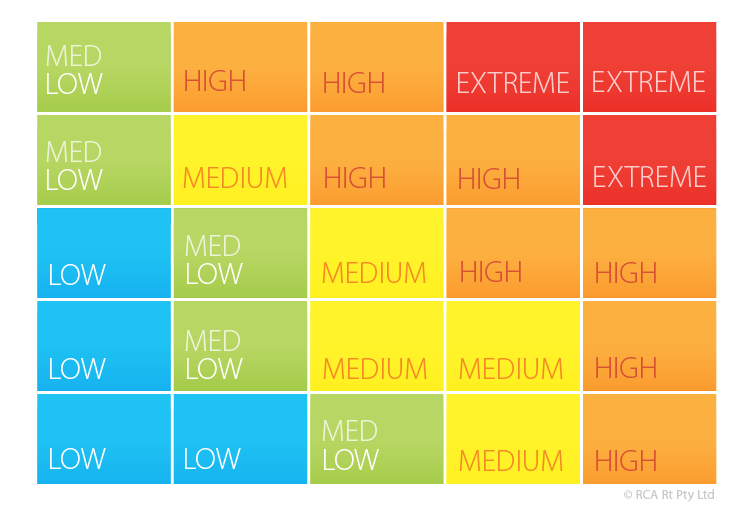 5x5 Risk Matrix
Assign & monitor risks
Risk management seeks to assign priority in response to the severity of the risk. There are many approaches to achieve that goal, but Secure SHEQ implements widely used assessment of the magnitude of the risk via the Risk Matrix. The risk magnitude is represented as a function of consequence (impact of risk event) and likelihood (of occurrence).
If your organisation consists of multiple sites with own d atabases, each site can have a risk matrix tailored specifically for the SHEQ concerns and risks of that business unit.
---
Setup risk matrices
In Secure SHEQ software, you can setup Risk Matrices according to your company's guidelines: set number of rows and columns, loss types & descriptions, set ranges, their colour and hi-valuess.
| | | | |
| --- | --- | --- | --- |
| Custom number of rows | Custom number of columns | Custom number of Loss Types | Custom ranges and custom colour |
| | |
| --- | --- |
| Escalate to 5WHYS | Escalate to 12STEPS RCA |
Use risk to escalate issues
As your investigation on an issue progresses, new evidence may be found that re-evaluates initial projections about the potential risk of the issue. Then, whilst carefully examining the risk matrix, it is time to escalate the issue to a new risk level. It usually means that more rigorous problem solving methodology is to be used, with additional help, resources, new analysis and new reports, together with approval from the management. Secure SHEQ has all the tools ready to assist you in case of such an escalation.
---
Category analysis. Juxtapose different variables or categories. For example, Injuries by Parts of the Body by Severity
Use dynamic reporting to recognise new risks
Use dynamic reporting to discern new risks, trends, recurring issues and possible threats. Through SHEQ forms, you may capture and then evaluate as many security, safety, health, environmental and quality concerns as you require. To each specific concern, for example represented via the drop down list in your form, you may assign a numerical value. When at some stage you run a custom dynamic report that evaluates that specific field across multiple issues, you can track how the selected value oscillates in time.
Track any variable and observe its behaviour in certain intervals.
Not only you can track the values of each item from the list, but also the number of occurrences of each item selected via the form, and then juxtapose it to another category, say, your business locations, so that in one glance you may measure the impact of a variable across different locations and gather further insight.

Depending what suits your exact needs, you can create a custom report at each stage of your investigation, that focuses solely on a particular variable and its impact across the company, the business unit, or in relation to any other category.